Medical scheduling, billing,
electronic medical records

and patient charting in a simplified way.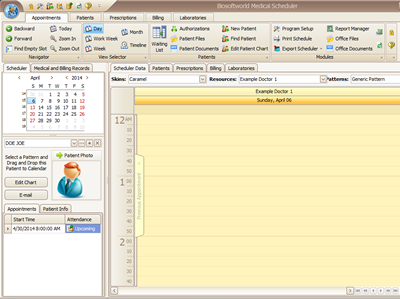 Biosoftworld Medical Scheduler. A medical software package that improves medical practice work flow management, electronic medical records and patient appointment scheduling for physicians. The best value for money healthcare solution in medical market today with a lifetime license!
Created with the latest .NET Framework technology provides full scheduling, reporting and billing capabilities with full EMR features! Includes also the new revised CMS-1500 (02/12) claim form. Send claims electronically to clearinghouses. Desktop or Cloud Based Access.
Scheduler is independent from Microsoft Office with it's own powerful word processor! Includes a report writer based on user defined templates. You can create and use in seconds, unlimited templates for SOAP notes, Auto Accident Notes, Treatment Notes, Dentist or Cardiology charts, Yearly Physical and many others. Scheduler store reports per patient or per facility. You can print any document for patient signing documenting medical necessity.
Biosoftworld Scheduler support exporting scheduling data at Apple Calendar, Google Calendar. Review at out-of office hours your appointments with your iPhone or Android smartphone. Biosoftworld Medical Scheduler can also run from cloud using a virtual desktop. You can perform all of your tasks from any computer with internet connection. Biosoftworld Medical Scheduler is included in '"6+ Best Medical Scheduling Software Download Reviews"'
Microsoft SQL Server supported!

Desktop Edition: You pay only once! No subscriptions! No hidden fees or extra charges! Free Updates.

Multilingual reports support. Localize (translate) your reports in any language via application interface!
Transfer the database file in a flash disk, work anywhere and you will have the power that comes with portability.
Medical file Management. Operate more efficiently and reduce paper. A truly paperless medical office with an efficient Medical Document and File Management module. Attach to your patient or facility, files like PDF, XLS, XLSX, CSV, DOC, WAV, MPEG and many other formats. Create template based .docx files(MS word). Record from your microphone .wav files attached to your patient.
Biosoftworld Medical Scheduler can also run from cloud using a virtual desktop. You can perform all of your tasks from any computer with internet connection.
Biosoftworld Medical Scheduler can run on your Mac using Parallels software without slowing down your Mac. Make Windows invisible while still using Scheduler in Coherence mode. Use Parallels Remote access to your Mac from any device. With Parallels you can use Windows side by side with macOS® (no restarting required) on your MacBook®, MacBook Pro®, iMac®, iMac Pro®, Mac mini®, or Mac Pro®. Share files and folders, copy and paste images and text and drag and drop files between Mac and Windows applications. See a short video presentation.
Biosoftworld Medical Scheduler was designed to be user friendly, eye-pleasing, and easy to navigate and networked. Is like a Medical Calendar with all the computerized abilities. Store patient photos, medical images, insurance cards, sounds and video. Attach files to your patient with the included file manager for a paperless medical office. Generate eye-catching statistic charts. See how you can easily make appointment reminder calls or text messages from Eagle Soft (Patterson Technology) using 1-800 Notify.
Full network support.
Desktop or Cloud Based Access.
Windows 10 ready!
Microsoft SQL Server supported!
ICD-10 Software with 2019 included.
Full Electronic Medical Records (EMR) and Billing modules.
Easily find an available time slot for a patient.
Print superbills and statements.
Authorizations.
Immunizations.
Laboratory Orders.
Revised CMS-1500 (02-12) claim form.
Australian type medical TAX-INVOICE (A5-A4) format.
Fully customizable SuperBill.
Post charges directly from appointment screen.
Print every aspect of a Schedule.
Daily, weekly, monthly, timeline and agenda view.
Keep a waiting list for patients.
Drag and drop appointments between time slots or doctors.
Multiple resources such as X-ray or MRI machines.
Recurrent Appointments.
Print Prescriptions.
Email Reminder calls.
SMS messsages.
SMTP Server for emailing and texting.
Order now securely online ....
Download now a full functional trial version. Use it for 30 days - no obligation to purchase...
Including:
Doctor and practice information
Patient information.
Full appointment scheduling.
Export iCalendar format.
Patient payments.
Statements.
Exporting to a variety of formats, including MS Outlook, XML, HTML, XLS, XLSX, TXT, etc.
Complete reports. Chart generator.
Report center - User designed letters and mailing.
Patient alerts.
Recurring appointments.
---
Main Features List
---
EMR Features.
Medical files manager. Paperless medical office.
Reminders.
Word Processor!
E-mailer.
SMS texting module.
SMTP Server.
Color Coding.
Report Designer.
Multilingual reports support.
Chart Designer.
Medical and Billing Chart generator.
Import functions.
Create patient statements quickly and easily
Very easy network setup for unlimited users and practices.
NPI Compliant.
Full Appointment Module with MS Outlook Integration
Export to Apple Calendar or Google Calendar in order to review your data on iPhone or Android.
Complete 2019 ICD-10 Codes
Prescription Writer.
Customizable templates for reports.
Convert Reports to PDF and multiple other formats.
Photo and Medical Image management.
Analyzing and publishing reports with Microsoft Excel or Microsoft Word.
Data retrieval by numerous search criteria!!
Automated updates.
Windows 10 October 2018 Update ready!
---
Screenshots..
---
Medical Appointment Scheduling Software - Electronic Medical Records Software - Medical Practice Software - Medical Office Software