ICD-10 Software From Biosoftworld
Biosoftworld ICD-10 Analyzer. A special ICD-10 software search tool contains all ICD-9 and ICD-10 codes designed to prepare healthcare personnel for the upcoming shift to the new coding system.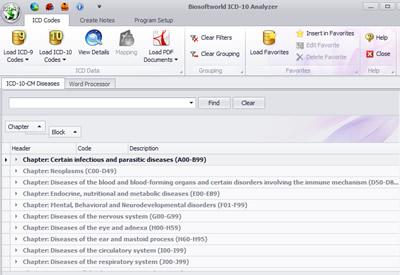 Includes all ICD-10 2015 (CM and PCS) diagnosis codes plus ICD-9 2012 (CM and PCS) diagnosis codes to their highest specificity. Out tool also map codes from ICD-9 to ICD-10 and vise versa.
Biosoftworld ICD-10 Software is the only ICD software search tool in the medical market today that contains both set of codes with a mapping feature! Saves you from the problems of searching multiple files formats and databases by consolidating them into one powerful and modern interface ready for Windows 8.1 and 10.
Most providers are currently working with the 9th edition (revision) of the ICD codes. However, a 10th revision is on its way. The ICD-9-CM Coordination and Maintenance Committee decide a partial freeze for ICD-9-CM codes. ICD-10 will become effective for coding from October 2015.
ICD 10 will affect healthcare professionals covered by the Health Insurance Portability and Accountability Act (HIPAA), not just those who submit Medicare claims. To learn more, view the FAQ fact sheets on transition basics for ICD-10. Take a look also for International Classification of Diseases, Tenth Revision (ICD-10) on CDC.
ICD-10-CM, for diagnosis codes, is intended to replace ICD-9-CM volumes 1 and 2.
ICD-10-PCS, for procedure codes, is intended to replace ICD-9-PCS volume 3.
Biosoftworld ICD-10 Software is no longer sold as a separate product! It is included with Biosoftworld Medical Scheduler for free!
---
Main Features:
Includes all 17,000+ ICD-9-CM 2012 diagnosis codes.
Includes all 4,000+ ICD-9-PCS 2012 procedures codes.
Includes all 79,000+ ICD-10-CM 2015 diagnosis codes.
Includes all 72,000+ ICD-10-PCS 2015 procedures codes.
Includes, Excludes, Notes and other information for chapters, sub-chapters, sections and sub-sections.
Mapping between ICD-9-CM and ICD-10-CM!
Powerful filtering with multiple criteria.
Network features. Share favorites across your network.
Original PDF Files.
Create a library of favorite codes!
Word Processor included!
High-speed, search forms to find codes easily.
Easy to use Windows interface.
Latest .NET Framework technology. 64bit support.
---
Screenshots:
ICD-10 Software.