Details

Last Updated on Wednesday, 05 March 2014 17:11
The Electronic Medical Records (EMR) software (also referred to as Electronic Health Records) and medical billing software is generally accepted as the key to a substantial improvement in productivity, quality of health-care and medical research development. Furthermore, efficient appointment scheduling and prescription writing are also essential for time saving in a busy medical office or clinic.
Our products uses password protected Microsoft Access or SQL Server 2005/8/12 databases. All products can be used only with the basic configuration of a 32 or 64 bit Windows PC.
Electronic medical records software ensure that all well-known disadvantages of paper-based records will no longer be an issue. Using an EMR - Medical Scheduling Software System by Biosoftworld you can save money and time. No special or expensive hardware is required, as our main EMR System runs on typical PCs, with Windows XP,Vista and Windows 7 or 8 operating systems. Biosoftworld is also interested in medical research and artificial intelligence, exploring the development of decision support tools as well as artificial neural network tools.
Our electronic medical records software has been shortlisted by Medicalbillersandcoders.com as one of the 50 best suited EMR for clinicians, the short listing has been done by suggestions of Billers and their Physicians.
EMR - Medical Billing Software with CMS 1500 and UB-04
EMR - Medical Appointment Scheduling and Billing Software
Read more: Electronic Medical Records EMR - Billing Software
Details

Last Updated on Tuesday, 15 April 2014 13:50
Medical scheduling, billing and charting in a simplified way.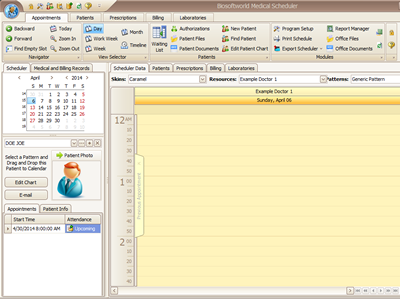 Biosoftworld Medical Scheduler. A medical software package that improves medical practice and work flow management and patient appointment scheduling for physicians. The best value for money solution in medical market today with a lifetime license!
Created with the latest .NET Framework technology provides full scheduling, reporting and billing capabilities with electronic medical records (EMR) features! Includes also the new revised CMS-1500 (02/12) claim form. Send claims electronically to clearinghouses. Scheduler is independent from Microsoft Office with it's own powerful word processor! Includes a report writer based on user defined templates. You can create and use in seconds unlimited templates for SOAP notes, Auto Accident Notes, Treatment Notes, Dentist or Cardiology charts, Yearly Physical and many others. Scheduler store reports per patient or per facility. You can print any document for patient signing documenting medical necessity. Biosoftworld Scheduler support iCalendar RFC 2445 standard (iCalendar.ics). This format allows you to export scheduling data at Apple iCal, Lotus® Notes, Google Calendar, Novell GroupWise®, and Windows Calendar. Review at out-of office hours your appointments with your iPhone or Android smartphone!
Details

Last Updated on Tuesday, 11 March 2014 17:53
Medical Office One. A HIPAA Compliant - NPI Compliant and feature-rich medical billing software package. Fast and easy-to-use, it allows creation of the new CMS 1500 02/12 or UB-04 claims.
Provides full customization, excellent reporting features and points of integration with popular software packages including: Microsoft Word, Excel & Outlook. Data for claims can be entered directly or can be retrieved for the Electronic Medical Records portion of software. Print the CMS 1500 and UB-04 Form, or send claims electronically to clearinghouses.
Medical Office One provides QuickBooks® integration, an advance SOAP Notes module and a powerfull chart generator. You can create additional databases for unlimited providers - practices! and handle all from the same interface. Start a successful medical billing from home business.Handle with one software package billing and clinical side of your health-care practice. A powerfull CMS 1500 Form Filler or UB-04 Form Filler. See how straightforward is to create a CMS 1500 Claim...!
Details

Last Updated on Wednesday, 05 March 2014 17:19
Seven is a feature-rich application for medical office - practice administration featuring full integration with Microsoft Office. Terminology and reports text are fully customizable, using user-friendly data entry forms and multiple functionalities!
Designed for small-sized medical practices (2-10 users), "Seven" is fast and easy-to-use, it allows real-time customization and excellent reporting features. With this solution you can be up and running in one hour! which means that it is not necessary for your practice to spend lot of money to purchase, configure, update and maintain an SQL Server like solution to run your application. Medical Database Seven, includes without any additional costs, points of integration with popular packages including: Microsoft Word, Excel & Outlook.
One of the challenges with medical office software is managing the amount of patient data and medical images without too many screens. That's where our medical office package makes the difference. Our solution lets you view, scan or attach documents and images like ultrasound, ECG and PDF directly from the main screen, even. Patient data is also organized into tabs on the main screen so you can quickly find what you need without time consuming searching through the system. Medical Database Seven provides an advance SOAP Notes module and a powerful chart generator.
Full document and image management capabilities! Store patient photos, medical images, insurance cards, sounds and video using the scanning and attachment to patient features.
Create additional databases for unlimited providers practices! Handle all from the same interface...
Details

Last Updated on Tuesday, 15 April 2014 16:47
ICD-10 Software From Biosoftworld
Biosoftworld ICD-10 Analyzer. A special ICD-10 software search tool contains all ICD-9 and ICD-10 codes designed to prepare healthcare personnel for the upcoming shift to the new coding system.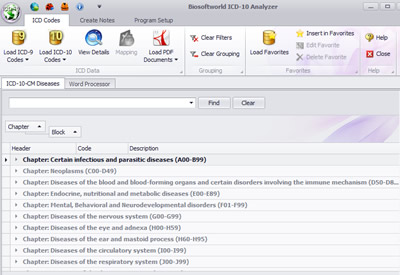 Includes all ICD-10 2012 (CM and PCS) diagnosis codes plus ICD-9 2012 (CM and PCS) diagnosis codes to their highest specificity. Out tool also map codes from ICD-9 to ICD-10 and vise versa. You can also load for reference the original PDF files.
Biosoftworld ICD-10 Software is the only ICD software search tool in the medical market today that contains both set of codes with mapping features! Saves you from the problems of searching multiple files formats and databases by consolidating them into one powerful and modern interface ready for Windows 8.
Most providers are currently working with the 9th edition (revision) of the ICD codes. However, a 10th revision is on its way. The ICD-9-CM Coordination and Maintenance Committee decide a partial freeze for ICD-9-CM codes. ICD-10 Will become effective for coding in 2015.
Details

Last Updated on Wednesday, 05 March 2014 17:20
Custom Software Development.
We are using our expertize and talent developers for software tools development and database driven applications in a wide range of industries. Our primary focus is Microsoft's development languages for desktop applications.
Biosoftworld has been designing and developing applications since our founding in 1996. We have develop several Windows applications related to medical industry. However, in the last years we are using also our expertize in many other fields
Today we develop custom medical software, database solutions, and custom programming services. Our software development is versatile and is available in microsoft programming languages including: C#, C++, Visual Basic .NET and ASP .NET. Our programmers can develop custom software that utilizes MS SQL and Microsoft Access Databases.
Details

Last Updated on Friday, 28 June 2013 10:00
Medical Billing
HIPAA compliant electronic medical billing software by MPMsoft!
Thermology
The science and study of heat using thermal imaging
MB-Guide
Medical Billing and Coding Guide.