UB-04 (CMS 1450) Data entry screen
On the UB04 screen the Insert Patient Data button allows you to enter default information that will automatically flow through to database, like Patient data, Diagnostic Studies, Therapies, Consultation and other transactions accessed from various portions of software. Though you may have parts of your invoice auto-entered, you can still change those fields on each invoice if you wish.
Important Notice:
UB-04 is not longer supported. Medical Database Seven and Medical Office One are being retired from 27 September, 2014 which means customers will no longer be able to buy them from this date onward. These products are replaced by our flagship Biosoftworld Medical Scheduler. Software bought before 27 September will continue to work as normal and supported. Additionally current customers can migrate to Biosoftworld Medical Scheduler without any cost. Please contact us for details.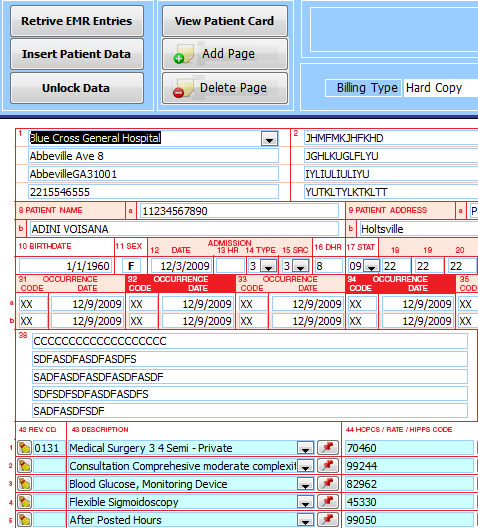 NOTE: The Provider Database must be created before anything else is done to the Medical Office One system.

1. Create a claim clicking

button. Before you do that you must create a Contact for the active patient from Add New button on Right Navigational Menu on Patient Medical Records Screen

2. A new claim is ready. Check the auto-filling of fields like Full Name, Patient ID, Billing ID etc... You will be able to add more invoices in current contact from "Add New" button. Always provide Service Facility and Provider Data. Billing ID is an important number if you create multiple claims per contact-visit.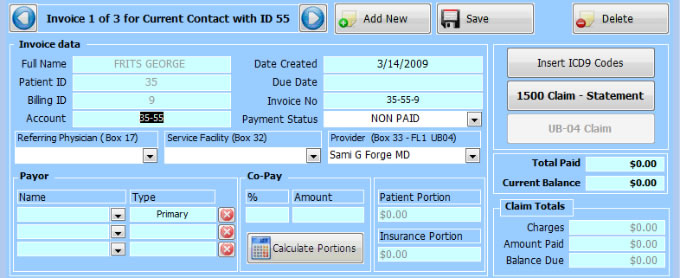 3. Click on UB-04 Claim button to display the UB-04 screen. Click on Retrive EMR Entries button in order to view existing patient transactions from EMR portion of software. Click on Insert Patient Data button in order to update the UB-04 form with existing patient details (like name, address, zip codes,etc) as well as Provider and Facility Details and codes (ICD-9-CM, CPT).



After that you can simply type data on remaining fields or alter existing fields. To enter information, click on the appropriate field or use the Tab key to move through the fields. Each field will displayed in light green color as an indicator that the field can be edited.

On any of the

buttons Click to select existing data like Transactions, NPI Number, Other ID Number into a given field of the appropriate UB-04 data box. These data can also be typed in if they are not already in the database.

By default, Medical Office One retrieve ICD-9-CM diagnoses from Patient Codification screen, but you may choose to find a code directly as well from Search button.
When you are finished entering information the closing or printing will be automatically save form data. Printing on a pre-typed CMS will be lock the form fields and each field will displayed in white color as an indicator that the field cannot be edited any more. However you will be able to unlock data fields with Unlock Data button.

On any of the black arrows Click to select information's from the central database like transactions or providers.





If a given Medical Term is associated with a CPT Code in Medical Terminology screen, fields like date and $ Charges will be also automatically updated.

Medical Office One comes with a full set of ICD-9-CM codes and CPT Codes. Biosoftworld is not responsible in any way for the accuracy of the codes or whether or not a given insurance company will reimburse for them. It is your responsibility to keep up with the ICD-9 (diagnosis) and CPT (procedure) codes as they change from year to year, and use those which are appropriate to your practice.