What is SQL 2005 Server Express?
SQL 2005 Server Express uses the same reliable and high-performance database engine as the other versions of SQL Server 2005. In fact, it is differentiated from the rest of the SQL Server 2005 editions only by the following:
1.

Databases have a

4 GB

maximum size but this size limit applies only to data files.There are no limits to the number of databases that can be attached to the server.
2.

Lack

of enterprise features support
3.

Limited

to one CPU. However SQL Server Express

can install and run on multiprocessor

machines, but only a single CPU is used at any time.
SQL Server Express by default installs as a named instance called SQLEXPRESS. However Medical Office One installation engine creates the instance OFFICEONE.
A GUI tool called SQL Server Management Studio Express Edition freely available as a Web download allow easy database management, query analysis and it is freely redistributable.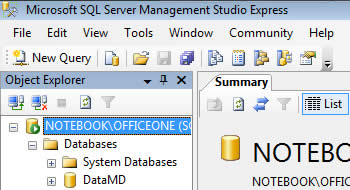 Installation Issues
.NET Framework 2.0 is a prerequisite for the installation of SQL Server Express.
Some users could run into the pending reboot requirement failure, which means that the user has to reboot the machine before the SQL Server Express installation can proceed.
Networking Support
Connections from a remote machine to SQL Server Express will fail unless the networking is turned on. To turn networking on, there are the following options